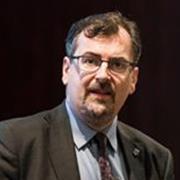 Colin Scott is Professor of EU Regulation & Governance at University College Dublin where he currently serves as Vice President for Equality, Diversity and Inclusion, Principal of UCD College of Social Sciences and Law, and Dean of Social Sciences. He studied at the London School of Economics and at Osgoode Hall Law School in Toronto.
Research Interests
His research interests focus centrally on the trends of and implications from the fragmentation of regulatory governance. He has more than 100 publications in books, edited books, articles and book chapters with leading journals and presses.
Research Projects
Colin's major collaborative research projects have included an innovative interdisciplinary study of the regulation of the public sector (UK Economic and Social Research Council), an ethnographic study of UK telecommunications regulation (Leverhulme Trust), a study of the development of meta-regulation (Australian Research Council), a comparative study of liability regulation in local government (ESRC and Irish Research Council for the Humanities and Social Sciences), a project to build and deploy a database of all central state agencies in Ireland (IRCHSS), a study of the development of reflexive modes of governance (EU Framework Programme 6), a multi-sector study of the growth of transnational private regulation (Hague Institute for Internationalisation of Law) and a study of regulation in Ireland (IRCHSS and Institute for Public Administration).
Affiliations
Prior to his appointment at UCD, in April 2006, he lectured at the London School of Economics (1992-2016) and the University of Warwick (1989-1991). Between 2001 and 2003 he was the Senior Research Fellow in Public Law at the Research School of Social Sciences, Australian National University. He was a Professor at the College of Europe, Bruges, from 2006-2009 where he taught on the interdisciplinary masters on European Law and Economic Analysis (ELEA).
He was a research associate of the ESRC Centre for the Analysis of Risk and Regulation (CARR), based at the London School of Economics from 2000-2010. He was Director of the UCD Centre for Regulation and Governance, 2010-2013. He is a co-author of the Irish State Administration Database (2010-). He was Convenor of the ECPR Standing Group on Regulatory Governance 2016-2021 and Chair of the Biennial Regulatory Governance Conference, 'Regulation in the Age of Crisis', held in Dublin in June 2010. He was appointed to the Editorial Board of The Conversation UK in 2017 and to the Irish Research Council in 2021. He was a member of the Board of Institute for Public Administration 2014-16. He has previously had editorial roles with Legal Studies (2011-2016) Law & Policy (2006-2011) and the Modern Law Review (1994-2007).
He was Dean of Law at UCD between 2011 and 2014, Vice Principal for Research and Innovation for the UCD College of Business and Law between 2006 and 2009 and Associate Dean of the UCD School of Law from 2010-2011. He is married with two children, one born in London in 1998 and the other in Canberra in 2002. Colin Scott gave his inaugural lecture, Regulating Everything in February 2008.
Publications
Schmidt, R., & Scott, C. (2021). Regulatory discretion: structuring power in the era of regulatory capitalism. Legal Studies, 41(3), 454-473.
Hardiman, N., Farrell, D. M., Carolan, E., Coakley, J., Regan, A., Scott, C., … & Zellentin, A. (2021). What Kind of Ireland?. The Oxford Handbook of Irish Politics, 1.
Scott, C. (2021), "Managing higher education for a changing regulatory environment", Public Administration and Policy: An Asia-Pacific Journal, Vol. 24 No. 1, pp. 7-20. https://doi.org/10.1108/PAP-10-2020-0045
Scott, C. (2021). The Politics of Regulation in Ireland. In Farrell, D., Hardiman, N.(eds.). Oxford Handbook of Irish Politics. Oxford University Press.
Scott, C. (2020). Implementation: facilitating and overseeing public services at street level. In Cane P., Lindseth P., Ip, E., Hoffman H.(eds.). Oxford Handbook of Comparative Administrative Law. Oxford University Press.
Scott, C. (2020). Managing and regulating commitments to equality, diversity and inclusion in higher education. Irish Educational Studies, 39(2), 175-191.
Scott, C. (2019). The Democratic Challenges of Effective Private Regulation and Enforcement. In Senden L., de Cock Buning M.(eds.). Private Regulation and Enforcement in the EU: Finding the Right Balance from a Citizen's Perspective. Hart Publishing.
You can see his full Google Scholar Profile here.
Contact: colin.scott@ucd.ie