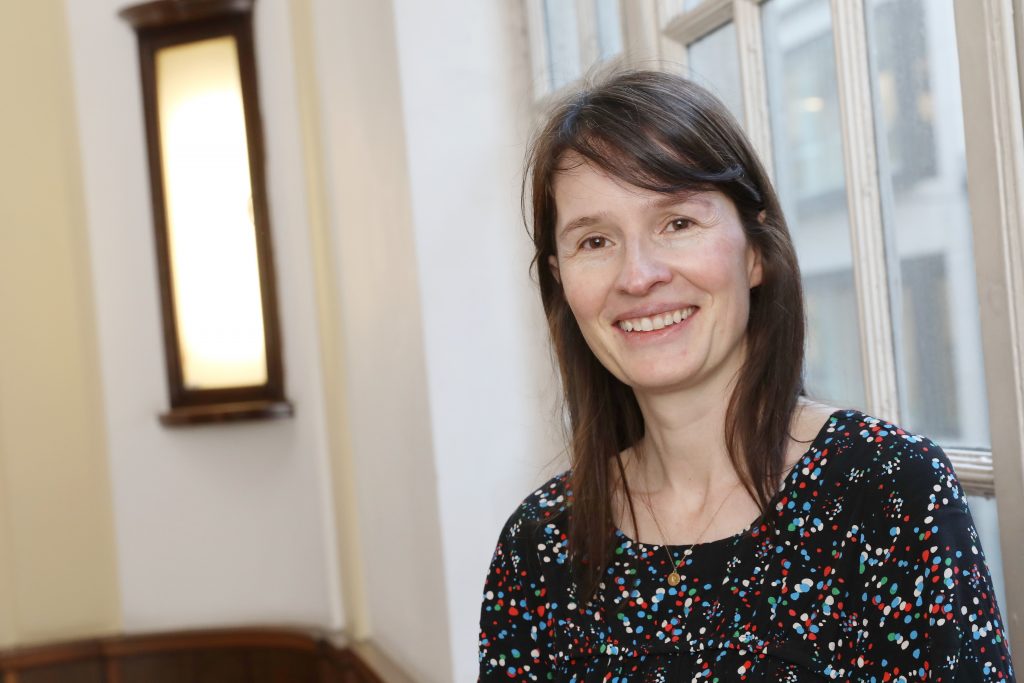 Dr Elizabeth Farries is our Centre's Director with Prof Siapera. She is also the director of the MSc, Graduate Diploma and Professional Certificate programmes in Digital Policy in the School of Information and Communication Studies. Liz previously directed programmes in technology and human rights with the International Network of Civil Liberties Organizations (INCLO), where she remains as a Senior Fellow. A qualified barrister and solicitor in Canada, Liz carried litigation files relating to intellectual property, indigenous and human rights.
Research Interests
Elizabeth's research lies at the intersection of new technologies and regulation. She has a particular interest in digital policy cycles and assemblages emerging in the Digital Transformation. Her related research interests include gendered safety online, secure and private online communications, digital identities, as well as policing surveillance technologies, pandemic technologies, data retention and protection, and international intelligence sharing. She considers these topics in relation to technological impacts on vulnerabilised and special interest communities.
Affiliations
Liz is a lecturer in the school of Information and Communities Studies, co-director of the UCD Centre for Digital Policy, and a senior fellow with the International Network of Civil Liberties Organizations. She is a qualified lawyer in Canada and a member of the Law Society of British Columbia. She is a member of several public interest boards and working groups.

Teaching 
Liz designs and delivers our MSc, Graduate Diploma and Professional Certificate in Digital Policy. She is also coordinator and/or lecturer on the following modules at UCD in the School of Information and Communication Studies:
Previous teachings:
LLM International and EU Copyright Law. Trinity College Dublin, Winter 2019.
L3 Social Inclusion Law Clinic. University College Dublin, 2018 (co-taught with Dr O'Rourke)
Publications
Farries, E. 2023 "An Irish Perspective" in Psychogiopoulou E and Casarosa F (Eds).

Social Media, Fundamental Rights and Courts: A European perspective

. Routledge

Farries, E. et al (2022). Expert Letter to Oireachtas Cabinet Members: Policing FRT, 20 June 2022. Ireland
Farries, E. and Cronin, O. (4 June 2022). Submission to inform the report by the United Nations High Commissioner for Human Rights on the right to privacy in the digital age at its 51th session in 2022, Human Rights Council adopted resolution 48/4. Cited at paras. 32 and 40
Milosevic, T., Farries, E., Jennings, F., & Viejo Otero, P. (2022). Submission to Consultation on Online Safety and Media Regulation: An individual complaints mechanism, Ireland. Acknowledge stakeholder in Expert Report
Flaherty, E., Sturm, T., and Farries, E. (2022). "The Conspiracy of Covid-19 and 5G: Spatial Analysis Fallacies in the age of Data Democratization." Social Science & Medicine

Farries, E., & Ansbro, D. (24 November 2020). Submission to Oireachtas Committee re Harassment, Harmful Communications and Related Offences Bill 2017

Farries, E., Ansbro, D. & Tierney, G. (6 October 2019). Submission to Joint Committee on Justice and Equality re Gendered Online Harassment

Farries, E. 2019. Spying on Dissent – Policing technologies and protest. International Network of Civil Liberties Organizations

Farries, E. & Sturm, T. (2018). "Feminist legal geographies of intimate-image sexual abuse: Using copyright logic to combat the unauthorized distribution of celebrity intimate images in cyberspaces." Environment and Planning A: Economy and Space. 51(5) 1145–1165.

Farries, E. (2019). "Regulation of online content". Submission to The Department of Communications, Climate Action and Environment
Media
Elizabeth is available for opinion and comment to journalists. Her previous publications and appearances include: Newstalk, Tonight Show, Hard Shoulder, Claire Byrne, The Irish Times, Business Post,  Irish Examiner, Irish Legal News, Big Tech Show
Contact: elizabeth.farries@ucd.ie