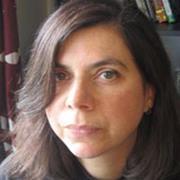 As well as being a professor of Information and Communication Studies, Eugenia Siapera is head of the School of Information and Communication Studies at UCD. She is the author of multiple publications, including books and edited collections, book chapters and journal articles. Eugenia is also the editor of the academic journal Online Information Review. 
Research Interests
Her research interests are in the areas of digital and social media, political communication and journalism. She is further researching and publishing on critical technology studies, digital inequalities, online hate speech and platform governance, digital racism and digitally enabled gender based violence.  
Research Projects  
Eugenia was the PI of HateTrack, a research project on racist hate speech in the Irish digital sphere, jointly funded by the Irish Research Council and the Irish Human Rights and Equality Commission. The project was one of the first to combine social and computer science in developing a machine learning tool for identifying and classifying racially toxic contents on digital platforms. She is currently finishing the Horizon 2020 funded project RePAST, which explores the digital and mediated memory of conflict and European integration. She has also received funding from Science Foundation Ireland, HERA, and the Broadcasting Authority of Ireland. 
Eugenia was recently awarded a COALESCE grant from the Irish Research Council to examine Alt-Tech Platforms and Covid-19 health narratives. 
Affiliations
Previous affiliations include Dublin City University, Aristotle University (Greece), University of Leicester (UK),  Anglia Ruskin University (UK) and University of Amsterdam (NL).
Teaching 
Professor Siapera delivers the UG module Gender, Race and Diversity in the Digital Age (with Elizabeth Farries and Paraic Kerrigan) and the PG module Platform Governance at the School of Information and Communication Studies, UCD. 
Publications
Eugenia's most recent books include Understanding New Media (Sage, 2018, second edition) and an edited volume on Gendered Cyber Hate (Palgrave, 2019) with Debbie Ging. She is currently co-editing a volume on Radical Journalism (under contract with Routledge) and working on the 3rd edition of Understanding New Media (under contract with Sage). For a full publication list please see Eugenia's Google Scholar Profile. 
Contact: eugenia.siapera@ucd.ie